Hybrid Multi Stage Buffers
In some applications, in order to meet crash worthiness standards, very long stroke buffers are required to meet high levels of impact energy absorption and dissipation.
This can be achieved by combining the attractive features of gas hydraulic units with deformation devices. The gas hydraulic element offers fully reversible energy absorption for slower impacts while the deformation device enables the hybrid buffer to fully stroke and maximise its potential for impact energy absorption.
Oleo has developed patented technology for such two stage devices.
TWO STAGE BUFFER IN ACCORDANCE WITH UIC 573
Projection:
Buffer head:
Reversible
Stroke:
Capacity:
Buffer force:
Non Reversible
Total stroke:
Capacity:
Buffer force:
620mm
300mm x 450mm
105-5mm
greater than 120kJ
less than 1550kN
greater than 550mm
greater than 900kJ
less than 1700kN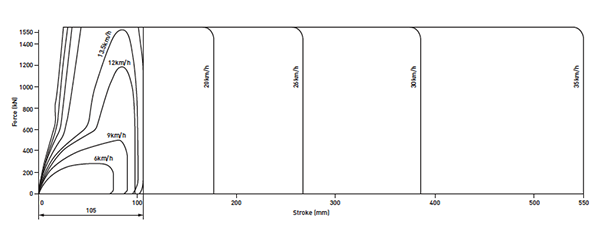 This technology can be used in applications that require extra stages of deformation set at different force thresholds such as the illustrative example given below:
A reversible gas hydraulic phase – the whole unit recovering up to an impact velocity of 15km/h.

A non reversible phase set at a relatively low threshold – no damage to the vehicle or the absorption system itself up to a higher impact velocity of 20km/h.

A second non reversible phase set at a higher force threshold – no damage to the vehicle but the absorption system "may" need total replacement above an impact velocity of 25km/h.

Vehicle damage would occur beyond the 25km/h impact velocity.
EXAMPLE OF A "3-STAGE BUFFER"