Oleo has developed its own proprietary plug in modules for Adams, a well established platform for Multi Body Dynamics (MBD) simulation for rail applications.The modules have a correlation with Oleo's long history of full size testing of the non linear dynamic characteristics of hydraulic energy absorbers as well as other rail CEM elements such as rubber, elastomer, deformation tubes, crush boxes, shear out mechanisms etc.
The kinematic behaviour (motion of moving linkages etc.) is usually evaluated and modified during the CAD design stage but can be verified if required.
The dynamic behaviour (force application on components and the resultant movement and loads) is effectively under taken using MBD simulation.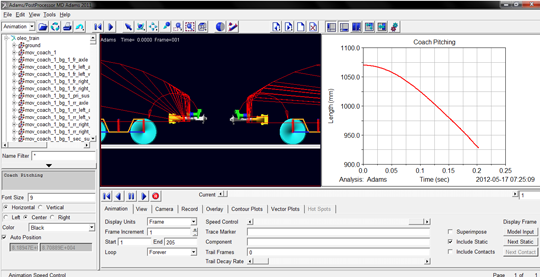 The Oleo MBD simulations output a comprehensive set of load cases at the relevant specific locations on the car body, such as the coupler mounting.These load cases can then be input into FEA models of the car body structure in a number of commercial software packages such as Radioss or LS Dyna that then provide all the stress, strain and deflection data.
The Oleo MBD models are full 3D representations but can be used in a simplified way to look at vertical movement only.