Container Protection
Some carrying vehicles are equipped with sliding platforms which offer extra protection to the content of containers. Oleo's container protection unit provides efficient shock absorption to these sliding platforms to keep longitudinal acceleration of the container to an absolute minimum under all impact conditions.Various strokes are available depending on the degree of protection required.
Both UIC and DB tests have been successfully carried out on our container protection units.
Oleo container protection units are available as standard designs or to a specific requirement.
TYPICAL DYNAMIC CHARACTERISTICS FOR A TYPE 18 BUFFER PROTECTING AN 80T MASS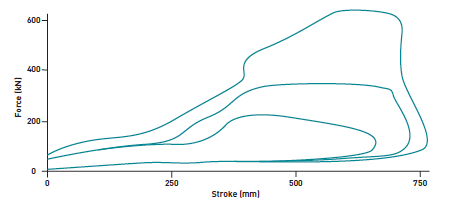 FORCE AGAINST IMPACT SPEED FOR A TYPE 11 BUFFER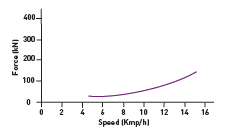 | | | | | |
| --- | --- | --- | --- | --- |
| Dimensions | Type 11 | Type 18-500 | Type 18-600 | Type 18-760 |
| A (Stroke) | 350 | 500 | 600 | 760 |
| B (Half stroke) | - | 250 | 300 | 380 |
| L1 (Free length) | 1485 | 2450 | 2450 | 2450 |
| L2 (Installed length) | 1475 | 2435 | 2435 | 2435 |
| L3 (Closed length) | 1125 | 1935 | 1835 | 1675 |
| L4 (Solid length) | 1100 | 1830 | 1830 | 1660 |