Oleo takes part in SolidWorks development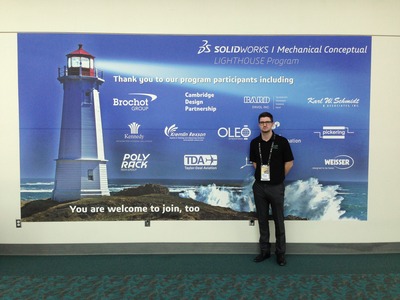 A design engineer from Oleo has recently returned from SolidWorks World in San Diego where he helped showcase the new SOLIDWORKS Mechanical Conceptual software application to thousands of design engineers from all over the world.
Oleo, one of a select number of global engineering experts chosen to be a Lighthouse participant for SolidWorks, was asked to join into a partnership with SolidWorks to evaluate the performance and benefits of the pre-release version of the software in a true production environment. Design engineer Adam Whittingham integrated SOLIDWORKS Mechanical Conceptual into his every day operations, and has been using it since September 2013, providing weekly feedback to SolidWorks to aid further developments of the software solution. In appreciation of his feedback and understanding of the product he was asked to attend SolidWorks World and present his experiences in a breakout session for attendees to discuss the functionality of the new application.
As an existing user of SolidWorks CAD 3D and a company admired for designing, manufacturing and implementing its products in the same location in the UK, Oleo was an obvious choice to partner with SolidWorks to evaluate SOLIDWORKS Mechanical Conceptual.
Stephen Endersby, Senior Product Portfolio Manager at SolidWorks, explained why the company wanted to work with Oleo. "Oleo already uses 3D CAD well and is familiar with how we present our unique User Interface (UI). The company's design processes and workflows are a perfect fit for the applications that we develop and they recognised that they could quickly implement SOLIDWORKS Mechanical Conceptual into their everyday operations, and use it in real, engineering processes."
Oleo has been using SOLIDWORKS Mechanical Conceptual to engineer a new high speed lift buffer and has already contributed to development on some of the fundamental aspects of the software. Following an insightful feedback presentation to SolidWorks management, Adam Whittingham was invited to help market the product at one of the largest 3D design software trade shows in the world.
SOLIDWORKS Mechanical Conceptual is a new tool for conceptual mechanical designfrom Dassault Systèmes' SolidWorks® brand.It enables designers to rapidly create, innovate, and collaborate during the concept design phase. SOLIDWORKS Mechanical Conceptual is complementary to the existing SolidWorks design tools and delivers a collaborative design environment that enables design teams, customers, and suppliers to communicate and develop products together whenever and where ever they are located. Uniting best-in-class technologies from Dassault Systèmes with SolidWorks' famous ease of use, SOLIDWORKS Mechanical Conceptual gives users unsurpassed design flexibility and intuitive design workflows to create concepts that have true lifelike behaviours, so designers understand how their product will behave in the real world.
Adam Whittingham explained why the product is useful to Oleo and other engineering design teams and why it was great recognition for the company to be asked to work so closely with SolidWorks. "SOLIDWORKS Mechanical Conceptual really helped us to save a lot of administration time in our design processes. Because it allows us to quickly generate 3D models and share our ideas within a web portal, we were able to speed up our design processes and eliminate paper-based design concepts".
"SolidWorks is a widely respected brand in the global engineering industry and it was a real honour to be asked to help shape the structure and functionality of the company's new software. We spend a lot of time making sure that we remain up to date with changing technology in engineering design, and to be recognised for this by SolidWorks is an achievement we are proud of."