Flirt emergency buffer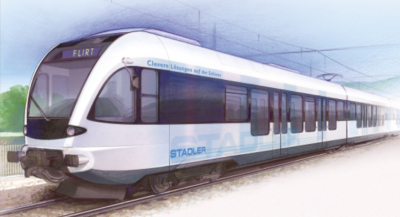 Client:
Stadler (car builder) and Axtone (buffer supplier)
Project:
Flirt Train Protection
Brief:
Oleo was commissioned to design and manufacture a hybrid two stage emergency buffer for the Stadler Flirt project which could be mounted directly onto the car structure with minimal rear protection.
Solution:
Using our in house simulation software and testing equipment it was possible to develop an emergency buffer which uses deforming element "one-shot" technology both in series and in parallel with the traditional gas hydraulic solutions. This achieved the client's goal of 382kJ impact energy absorption.
Gas-hydraulic units afford excellent absorption capacity, long stroke units can have a long installed length; conversely, deformation tubes or cellular based technologies are "one-shot" and potentially can require replacement even with a very light impact.
Hybrid gas-hydraulic /deformation tube absorption systems overcome each-others shortcomings resulting in a compact unit which offers a reversible and non-reversible stage giving:
A very efficient and resilient unit during normal operation.
Excellent crash protection at velocities sufficient to activate the deformation tube.
This was achieved for the Flirt as follows:
Reversible:
Elastomer with stroke 110-5mm
Capacity 32kJ
Max buffer force <700kN
Non Reversible:
Deformation total stroke >600mm
Capacity 350kJ
Average buffer force <800kN
Overall Length 1242mm with a buffer head 300mm X 300mm