Baker Street Station - London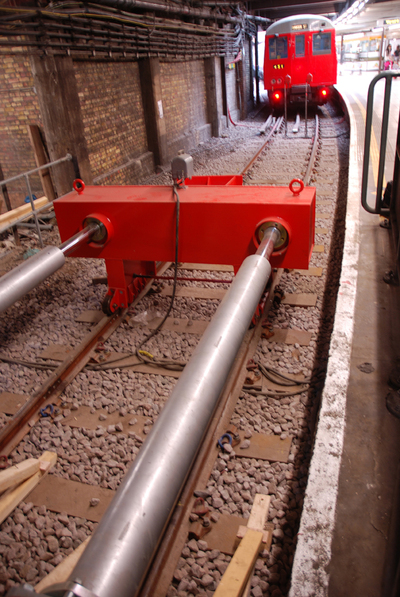 Client:
London Underground
Project:
Baker Street Underground station is one of the oldest stations on the London Underground and services a number of lines including Bakerloo, Circle, Hammersmith, Jubilee and Metropolitan. This station was to undergo an upgrade of rolling stock. The existing Ransome and Rapier water buffers on platforms 2 and 5 were unserviceable and needed to be replaced as they no longer met with safety criteria.
Brief:
To install new units on Platform 2 to fit into the existing space. To install new units on platform 5 to be housed in an existing room behind a Grade 2 listed wall which could not be damaged.
Solution:
The units supplied were based on the Oleo industrial Type 730 buffer which has a capacity of 1680kJ and a stroke of 3000mm. These units were specially designed for this application with specific metering pins housed in 5 individual capsules in a series of tubes.
Upon compression loading, the front unit compresses and together with the inner tube moves inwards compressing both the middle and rear units. All five compressions take place simultaneously.
Upon recoil the rear unit pushes both the two middles and front units into their extended position. To allow for the bending of the stroke, the plungers were supported by a specially designed trolley. The trolley design took into account the curve in the track and the buffer tips were angled to support this.
Due to space constraints in the tunnels and the installation site Oleo used small portable cranes with great precision to ensure that there was no damage to the Grade 2 listed wall. Once the hydraulic cylinders had been installed the client embedded these with concrete.