Daimler advanced drive simulator, Sindelfingen

Client:
Daimler AG
Project:
Daimler has recently put the world's most advanced drive simulator in operation. The dome with a vehicle cab inside can be swivelled 90 degrees. With its 360 degree projection screen, fast electric power systems and twelve metre long rail for movement sideways and lengthwise this simulator generates powerful movement for a unique and realistic driving experience.
Brief:
To supply an industrial hydraulic buffer to support Daimler's drive simulator.
Solution:
Oleo provided 3m stroke buffers, and specially adapted the metering to support the simulator in the event that the proximity switches or sensors were to fail.
This project started almost 10 years ago as a research project with OLEO's distributor ho-ing in Germany. ho-ing worked with Daimler on a buffer design for the simulator and Daimler adapted the design to suit their own needs.
The application needed a buffer stroke of total 3.6m to absorb the energy of a 22t moving mass with a velocity of 10m/sec with limitations to end forces and decelerations. This was realised with two 3m stroke buffers at each end of the rail in combination with two 0.6m stroke buffers on the moving platform. A scaled down test installation was done in co-operation with ho-ing at the University in Braunschweig, to confirm the theoretical calculations with smaller type OLEO buffers, before entering into the process designing the metering for the final units. The buffer system was tested at full operational speed during the commissioning and is approved by the TÜV Germany.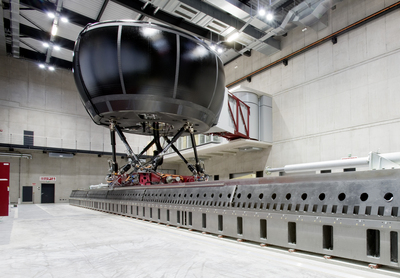 Daimler web site: